Florian Witulski ein 23 jähriger Freelance Journalist berichtet trotz gebrochener Knochen und Schußverletzung unermüdlich aus dem Kampfgebiet. Letztes Jahr berichtete er unter anderen von der Niederschlagung der Protestbewegung im Iran. Hier sein letzter Artikel.
Florians
Twitter
und
Webseite
Just a weeks ago there was a feeling of a relieve after Red Shirt leaders agreed with Prime Minister Abhisits negotiation plan. But more and more demands on both sides stopped this positive compromise. The army started to seal the Red Shirt rally sites on Thursday night. Barbed wire, armored vehicles and thousands of soldiers hiding in buildings and bushes confronting the remaining Red Shirts.
It has been several weeks that businesses and traffic could not operate in Bangkoks center, especially Silom and Ratchaprasong which are Bangkoks main Shopping and Business districts. The pressure rises and Prime Minster Abhisit wants to seal the Red Shirt area rally sites. No Water, Power and Communication supply are not a problem for the Red Shirts right now but the maintenance of the soldiers keeping up the road blockades caused several clashes yesterday afternoon/night.

The mild road districtions Thursday night lead to chaos near the Thai-Belgium Bridge. Several broken Firetrucks and burning busses have been regained by the army yesterday morning.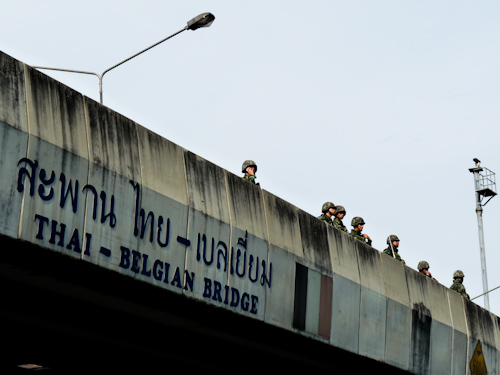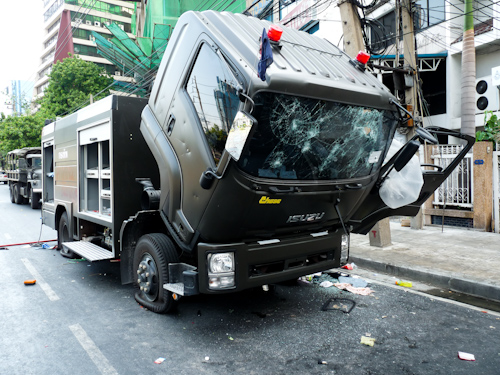 While moving from Rama IV towards Sala Daeng Intersection it was getting more and more tense. Red Shirts throwing molotov cocktails, grenades and huge stones in the direction of the army. They also moved burning tires from the flyover bridge near their camp against alarmed soldiers at the blockade.
Here are some pieces of my video footage at that time which have also been shown on France24 and CNN.
A littlebit later at Saladaeng Intersection. Several burning tires in the middle of the road intersection followed by several strong bomb explosions in the red fortress and at the skywalk.
Also several road blockades were burned down by the Anti-Government Protesters.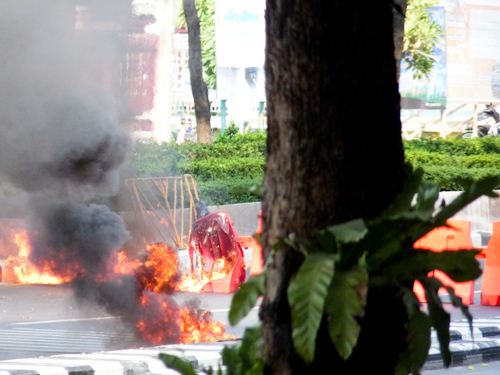 During the afternoon I saw a lot of injured Red Shirts and Soldiers, but the most frightened scenes happened while I was hiding in an empty building near the flyover bridge. A Red Shirt was moving away from the soldiers while he got shot through his knee right a few meters in front of me. He tumbled against a public phone with his head and lay on the floor. Except me and two other journalists no one was there. It was overwhelming because we couldn't do anything caused by the ongoing gunfire and exploding grenades.
One of the other Thai Journalists who was in contact with some of the soldiers called an ambulance truck which arrived just 5minutes later. We helped the unconscious guy in the truck and moved back to a secure place. The only thing that was left from this tragedy was this.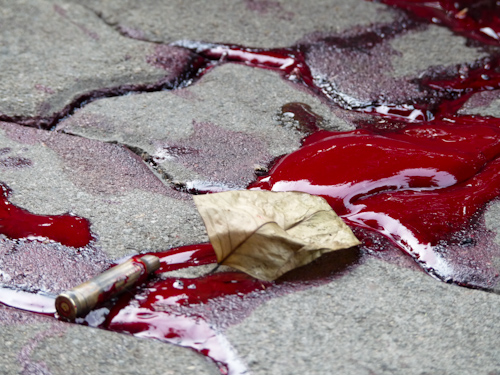 Both sides don't want to give up and it is clear that this conflict will last a long time. The 16 Dead and over 150 Injured people of yesterday are just a beginning of bloody crackdown which will mark Thailand's History.
stay tuned for more footage and reports. check my twitter to get live updates from the scene.